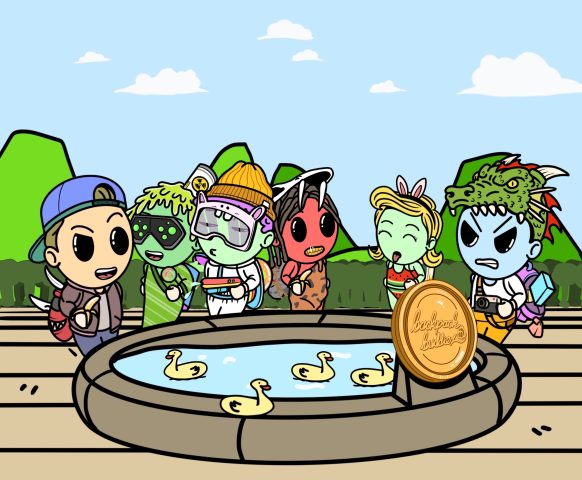 10,000 backpacks Buddiez on the ETH blockchain support each other, build relationships, grow and enjoy in the process. Buddiez strives to create a culture and brand that will change the way we collaborate on Web3. They look forward to considering and building with them other communities that share the same values ​​as Buddiez.
culture
BackPack Buddiez is inspired by common accessories that connect students, travelers and wanderers of all disciplines. Teams come together in a collaborative spirit, and the project's vision is to bring creatives, builders, artists, activists and innovators into a fun and positive environment. With the motto "Buddiez Help Buddiez", the team strives to continue this theme by leveraging the talents of great community members and creating channels for them to contribute. While emphasizing their wonderful work.
Mission
Buddiez is first trying to fund the construction of two schools through the nonprofit buildOn. The construction of this school will be the first of many things the community does to help others. The mission is to make a difference, raise awareness and encourage others to do the same. The ultimate goal is to connect people / communities, tackle global problems and create opportunities for those who lack them.
"We consider things that share common values. We look forward to building with our Buddiez and them. What we build together grows together."
About the team
Backpack Buddiez is a group of dreamers and performers I met in the Twitter space. They come to you from three continents with all the different skill sets and life experiences. They celebrate their differences while sharing common values ​​and goals.
Aswin Aschwan (lead artist) –Jakarta, Indonesia
From a humble beginning, lead artist Aswin, 22, has built a reputation for remixing custom art based on other projects. He is known for creating art in many different styles and is a multidimensional artist. He wants to use the profits from his sales to drive his family out of the rugged neighborhood.
Crypto Mike (Michael Lee-Chong) – Mississauga, Canada
Lee is a teacher / coach and community builder. He saw the potential of NFTs through storytelling, utilities, and applications. Since then, he has taken a vacation to pursue his skillset / move to Web 3 and apply it to the actual integration to create a culture, movement and brand that drives change.
F (Franky) – USA, South Florida
Eff took up the concept of community in a support group when he was working on substance abuse seven years ago. Since then, he has overcome all obstacles and made all decisions in good faith. He grows up every day and strives to help all his Budiez along the way.
tea – Derbyshire, England
Tee is an artist / community builder in the NFT community. Tee firmly believes that "everyone is who", which is effectively communicated through her message. She is passionate about making a difference with Buddiez.
Danny – New York, USA
Danny is excited about the opportunity to build and explore the future prospects of web3, leveraging his many years of professional experience in science, technology, engineering and mathematics (STEM). He finds homes in the virtual community throughout the universe, learns new skills, and continues to grow with his team.
Our story
Aswin and CryptoMike have built friendships / brotherhood through the Twitter space. This was a passion shared by the two, so they were working on a project together to build a school. Not only did they build a school, but Aswin himself wanted to give the artist an opportunity because he was trying to quit art together because of the living environment. Crypto Mike watched Aswin draw for months one day. Aswin showed off some of the different styles he could draw. These were thick lines and were very different from his other arts. Aswin drew the character on his backpack, and that was when Crypto Mike came up with the name Backpack Buddiez. From there he went to the garage, where he rapped for the first time. He sent it to the rest of Buddiez, followed by his first "backpack buddy". From there, the team decided to build the concept together. They knew that all Buddiez were needed to realize their vision. They ran with ideas / visions because it represented exactly who they were. Since then, they have added more members to the art team, including Aswin's friends animators and photographers living in Indonesia. They are also blessed with great community members who are willing to step up to the plate, become leaders, collaborate and make a difference in the world.
Mint price!
Pre-sale: 0.03 ETH
Public: 0.033 ETH
Mint date!
April 7, 2022
Pre-sale
Being yourself, you never become a buddy who isn't you or do something you don't want to do. We are here to help each other, co-create, motivate and enjoy each other's company!
See for more information.
https://www.backpackbuddiez.io/
https://link.medium.com/LXG75MuNBob
twitter: https://twitter.com/BackpackBuddiez

Build on: https://www.buildon.org/
Media contacts
Company Name: Backpack Buddiez
contact person: Public relations window to the media
Email: I send an email
Country: America
Website: https://www.backpackbuddiez.io
Press release distributed by ABNewswire.com
To view the original version on ABNewswire, please visit: A future NFT project, Backpack Buddiez, aims to raise funds to build two schools in developing countries.